Recovering From Ankle Surgery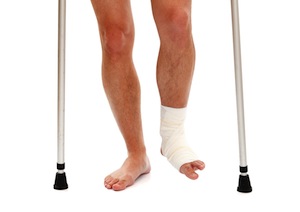 Ankle surgery can seem like it takes forever to recover from, creating not only physical challenges but mental ones as well. Here are some tips that could help your recovery go a lot easier – and possibly even faster.
Take it Easy
One of the best things you can do when recovering from ankle surgery is to stay off of it completely. Putting any weight on the ankle could be extremely risky, leading to complications such as incorrect healing or even a re-injury. When you need to get out of your home, be reasonable. Limit those trips to the mall or the store, because even using crutches can make you exhausted. If you can arrange it, try to rent a scooter to reduce the risk of doing any damage to the ankle.
Maintain a Healthy Lifestyle
While you obviously won't be able to work out like normal after ankle surgery, it is still very important to eat healthy throughout your recovery. This will not only help you heal faster, it will also reduce the chances that added weight could put more of a strain on your foot once you resume walking. Exercise as much as you can without endangering the ankle, and get plenty of sleep.
Plan Ahead
Some of the steps you take before ankle surgery can help you heal faster. For instance, plan ahead and make sure you have plenty of things to do at home to keep you occupied. Get some books you want to read, DVDs you want to watch, and music you'll want to listen to. Also, clear out as much clutter from your home as possible so they don't present a safety hazard. Make sure your floors are clear of clothes and toys.
These are just some of the things you can do to help your recovery from ankle surgery. If you would like to learn more or you need treatment from our Southlake orthopedic surgeon, get in touch with Advanced Spine & Orthopedics. Contact us online or call us at 817-310-8783.