The shoulder is simply a ball at the end of the arm, housed in the socket of the shoulder joint. Numerous muscles, tendons and ligaments keep the ball and socket attached, allowing the arm to move freely in many directions. Inside the socket of the shoulder joint, there is a ring of cartilage called the labrum. The labrum acts as the anchor point for the ligaments surrounding the shoulder. When that area is injured, we call it a labral tear.
The joint specialists at Advanced Spine & Orthopedics in Southlake are knowledgeable and skilled in treating this painful shoulder condition. Because the rim of the shoulder socket is soft tissue, our orthopedic surgeon may order a CT scan to properly diagnose the cause of your shoulder pain.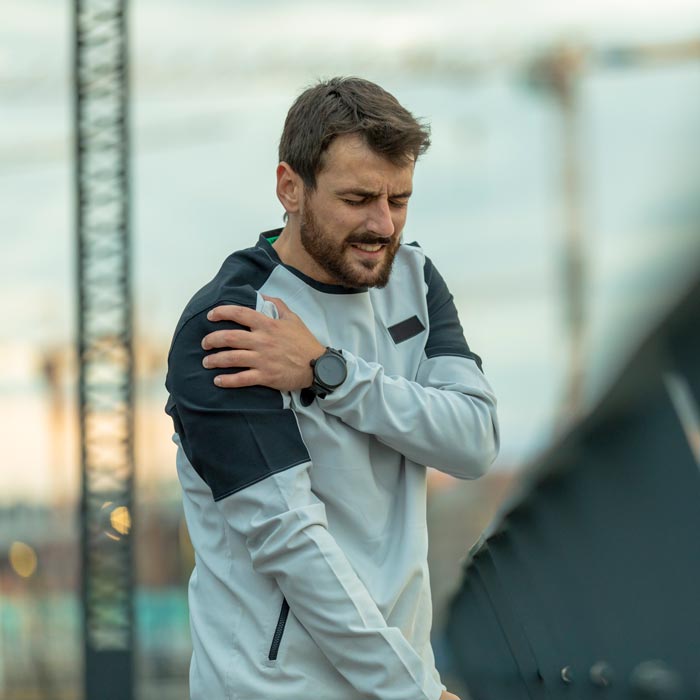 Southlake, TX
Symptoms of a Shoulder Labral Tear
The labrum can tear by normal wear and tear, overuse or an impact injury event. Whatever the cause, a labral tear can create intense shoulder pain. The symptoms of a shoulder labral tear are similar to other shoulder injuries. Therefore it is critical to see our shoulder labral tear specialist who has lots of experience with shoulder injuries to gain a proper diagnosis.
Some symptoms for a labral tear include:
Pain when lifting your arms above your shoulder
Shoulder popping or grinding
A feeling of instability in your shoulder
Decreased range of motion
Loss of strength in the shoulder
Consult an Orthopedic Shoulder Surgeon
Based on a thorough shoulder examination, our orthopedic surgeon will be able to determine if a non-surgical treatment plan is the best route. Conversely, if the symptoms continue, or if the injury is severe, surgery may be suggested. If surgery is needed, our orthopedic shoulder surgeon has the experience and knowledge to surgically repair the labrum.
To set up a consultation with our orthopedic surgeon regarding a labral tear, or any other injury causing shoulder pain, you can call our Southlake clinic at 817-310-8783. Contact us online using the easy online form.