Holiday Lights Lead to a Yuletide Fall?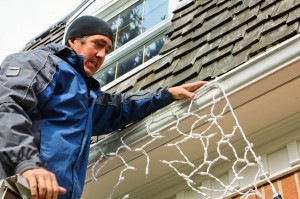 "But what if I fall off the roof?" This question sets the stage for the 1994 holiday comedy, The Santa Clause starring Tim Allen, about a guy who takes over for Santa Claus after jolly old Saint Nick falls off his roof.
Southlake Orthopedic Surgeon Shares Safety Tips
The accident is a cute premise for a movie, but poor Santa never makes it to his orthopedic surgeon to get an answer to that very important question.
Luckily, in real life, Dr. Kevin James and his staff at Advanced Spine and Orthopedics use their considerable expertise to care for patients who slip, fall and suffer serious orthopedic trauma. Even if your holiday season involves broken bones, torn ligaments, back injury, or trauma to the knee, hip, shoulder or ankle, Dr. James can help.
Accident Statistics Not Full of Cheer
Injuries related to falls while putting up or taking down holiday decorations are common. Hanging those shiny, bright bulbs is a festive tradition, but one that comes with a lot of risk (and needs to be handled with the proper care). One fall is all it takes to do serious damage to your bones and joint. Just as the movie portrays, accidents can happen to even the most skilled roof climber.
There were about 15,000 Americans who suffered holiday-decoration-related injuries in 2012 alone, according to the Consumer Product Safety Commission. Of growing concern is the upward trend in accidents over the past four years, as more and more people attempt the do-it-yourself method of stringing lights. Apparently there's a specific demographic involved in these incidents.
The people filling orthopedic surgeon's offices and emergency rooms are mostly "middle-aged men with back strains, contusions, wrist fractures and concussions," says Dr. Timothy Jones, Emergency Department Medical Director at Baylor All Saints Medical Center in Fort Worth.
And it's not only the DIY crowd taking the fall. Even in the workplace, slips and falls remain the top causes of workplace fatality, according to Health and Safety Executive statistics. The risk of serious or minor injury ranks even higher. Roofers and construction workers had the highest rate of employee falls in the past year. Clearly, even the most "expert" ladder users feel the impact of gravity.
Safety Tips: How to Avoid Fall Injuries
They say it's all about the ladder. Very few homeowners employ proper safety protocols when on or around these seemingly simple mechanisms. Those who know best advocate the "two-person" rule (one person climbs, while the other holds onto the base of the ladder). There are no statistics, unfortunately, to measure how often that rule is tested. There are still ways to avoid the pitfalls of negligent ladder safety, even when flying solo.
Keep these tips in mind:
Keep both hands free
Secure a ladder at the bottom and the top
Always extend a ladder three feet above the roof line
Keep your ladder maintained, cleaned and in good working order during use
Avoid trying to climb steep rooftops.
Heed the warning labels on all ladders.
So if you still insist on being the Clark Griswold (Christmas Vacation) of your neighborhood again this year, have at it but attempt to heed the advice of Lewis Schwartz, a Fort Worth native, who suffered a collapsed lung, a bruised liver, and four broken ribs this time last year trying to string his holiday lights.
When asked if he was going to decorate the house again, Schwartz said, "I'm going to pay someone to put lights on our house this year." It's a whole lot easier than spending New Year's with your favorite orthopedic surgeon.
As always, Dr. James and team wish you happy, safe and healthy holidays. But when accidents do happen, rest assured that Advanced Spine and Orthopedics is currently accepting new patients for treatment of orthopedic injury or chronic disorders affecting the back, neck, hip, knee, shoulder, and ankle.
Start the New Year right by scheduling a consultation at our Southlake office, 817-310-8783. You can also use our convenient "Contact Us" form online.