Don't "Fall" for Knee Pain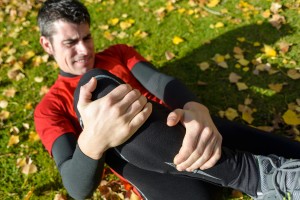 Avoid Knee Pain and Injury This Fall Season
As fall is quickly approaching, many people will be focusing on keeping warm as the holidays ensue. Unfortunately, with the introduction of fall comes a number of potential hazards. Before the weather starts to cool down, consider these things that can lead to falls, knee pain and injury:
Travel
As many people travel during the fall to see family, friends, and loved ones, the potential for injuries escalates. Being in unfamiliar territory carries with it increased risk from lack of territorial knowledge. It's very possible to miss hazards, especially if your mind is on your trip. Whenever you travel this fall, pay extra attention to your surroundings.
Weather Conditions
The fall is known for cooler temperatures, and in some areas, frost, ice, and even snow can show up at a moment's notice. As a result, the fall season is notorious for slips and falls. If you're going to be out in the elements during the fall, use caution around areas that are wet from rain, ice, or snow. Walk very carefully over these areas if you must, but it's better to just avoid them altogether. Cooler weather also causes some people to experience difficulty with flexibility and mobility. For these individuals, a sudden onset of disability can very possibly lead to injuring the knee. If you experience this problem, see our doctors to discuss possible solutions.
Outdoor Activities
In the early fall, many people enjoy getting out in nature to take advantage of the cooler temperatures. Hiking and camping are outdoor activities that a great number of people engage in during the fall, but if you aren't careful or mindful of what you're getting into, you could very well end up badly injuring yourself. When hiking, stay on approved, clearly marked trails to lessen the potential for any kind of dangerous hazard. You should also wear appropriate foot gear that is secure and supportive. For example, hiking boots are going to be better choice than something as brittle and loose as flip flops. When camping, investigate your campsite before pitching your tent to identify anything that could be hazardous, such as stumps or rocks. Clear the area as best you can whenever possible.
How to Contact Advanced Spine & Orthopedics
If you've experienced any kind of fall leading to knee pain, whether during the fall season or at any other time during the year, contact Advanced Spine & Orthopedics for help. Our doctors provide a range of medical solutions for knee pain, spine injuries, herniated discs, rotator cuff injuries, ACL tears, and more. Even if you aren't experiencing pain from a recent fall, it's still important to get checked out to prevent furthering any possible damage you may have sustained but didn't know about.
Contact Advanced Spine & Orthopedics in Southlake, TX by calling 817-310-8783 to schedule your appointment.