Advanced Spine & Orthopedics Open House Winners
ASODocs Hosts Ribbon Cutting and Open House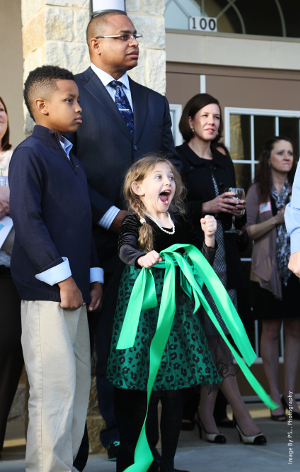 With baseball season just around the corner, Advanced Spine & Orthopedics hosted its own "Opening Day" in Southlake. The clinic's official Ribbon Cutting and Open House reception on Thursday, February 27, celebrated ASO's new office located at 2813 W. Southlake Blvd, Suite 100, Southlake, TX. Close to 100 people turned out for the event to welcome orthopedic spine surgeon Dr. Kevin James and the Advanced Spine & Orthopedics team to the Southlake community.
The Open House, themed around major league baseball's "Opening Day," offered guests delicious wine and hors d'oeurves, popcorn, peanuts, and free T-shirts. The "Dot Game" gave guests an opportunity to network with the ASODocs team and be entered to win some great door prizes. Capping off the evening was a special presentation to Dr. James – a vintage baseball bat personalized to commemorate the occasion.
A special thanks to Dr. James' s family, friends and colleagues who attended, to the Southlake Chamber Ambassadors for their warm hospitality in officiating the ribbon cutting, and to the various vendors who provided door prizes for the event. To see the full photo gallery, see our News and Events page.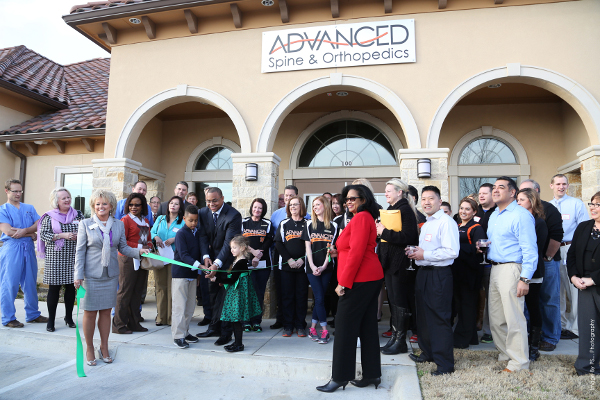 DOOR PRIZES
Texas Rangers Opening Day Tickets ($450 value)
Provided by Advanced Spine & Orthopedics
WINNER: Gordon Chen
Two tickets to tour Global Life Stadium
Texas Rangers – The Ballpark in Arlington ($50 value)
Provided by DS Consulting
WINNER: Rajean Moseley Larue
Wine Basket (value $50)
Provided by Ryan Tewksbury with DR Medical, Inc.
WINNER: Randy Robbins MD
Two tickets to a Texas Rangers Game ($95 value)
Provided by C-Med Solutions
WINNER: Kelly Truman
Professional Photography Gift Certificate ($200 value)
Provided by PS…Photography
WINNER: Jeff Wilhelm
Trio Gift Certificate ($20 value)
Provided by Trio Restaurant and Catering
WINNER: Lola Howle
If you're one of the lucky winners, send us a message on Facebook.
Photographs Courtesy of PS… Photography